The Specialty of Dental Implants

by Dr. Stephen J. Parr D.D.S.
Read The Specialty of Dental Implants by Dr. Stephen J. Parr D.D.S. to learn more about Grove Smiles® Dentistry and our Dentistry office in Coconut Grove, FL.

We look forward to serving you! Call - 305-858-0505.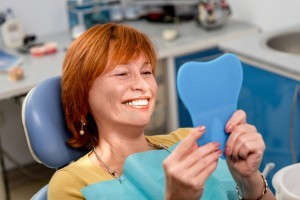 Are you embarrassed with the fact that you have a missing tooth?  Do you not smile quite as widely?  Has eating become less enjoyable?
If you have answered "Yes!" to any or all of those questions, our team at Grove Smiles Dentistry in Coconut Grove, FL may have a wonderful solution for you.
Are Dental Implants For You?
Dental implants are popular with both patients and dentists for their durability and likeness to natural teeth. This natural look, though, can be difficult to attain, especially in what's known as the "smile zone" — the area of the mouth where teeth are most visible when you smile.
As a dentist, our biggest concern is the upper front teeth, where the gums are most visible, especially if you smile widely.  We recommend that if you are considering this option that you do your homework in regards to dentists and their skill sets.  This mastery of dental implants is incredibly important along with experience and artistry to have to implants positioned correctly in this area so that they appear to naturally emerge from the gums and blend well with your other teeth.
Obtaining The Natural Look
To obtain that natural look, our expert team led by Dr. Stephen J. Parr will first assess whether or not there's enough bone present and what type of gum tissue you have.
The first consideration is the proper presence of bone.  When a tooth has been missing the bone area tends to dissolve and resorb and may not leave a sufficient anchor for the implant to be placed in the right position.  There also needs to be sufficient bone around adjacent teeth to support the tiny triangles of gum tissue between teeth called papillae. Without the papillae an unattractive black hole may result between the implant and an adjacent tooth or implant.
The second factor is we must consider is the type of gum tissue you have.  Everyone generally inherits one of two types of tissue from their parents: thin or thick.  The type you have can influence the way the implant appears to emerge from the gums.  If you have thick gums, they're easier to work with and can cover more of the implant. Thinner tissues aren't quite as easy and are less forgiving if an implant isn't placed as precisely as possible.
The Recent Evolution of the Dental Implants
In recent years, improvements in implant design have sought to provide greater stability around bone and gum tissues to offset some of the issues we've mentioned.  A variation on the design of the top of the implant (where the crown is attached) changes the direction of growth for gum tissues from a horizontal orientation to a vertical one, which can help with the final appearance.
Best Recommendation For Dental Implants in Coconut Grove, FL
The best advice and recommendation I give in regards to dental implants is to have a dental professional evaluate the condition of your teeth, and work with you to form a plan of action that will keep your smile at its healthiest. Our team at Grove Smiles Dentistry, led by me – Dr. Stephen J. Parr, offers for you to come and have a full examination and consultation to help you understand our best recommendation in regards to broadening your smile with natural looking dental implants.
Let us help you continue to plan for a happy and healthy smile for a lifetime. We look forward to hearing from you soon!


For Your Health,

Dr. Stephen J. Parr D.D.S.


Leave a Reply